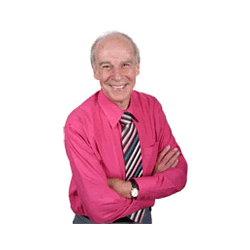 WC May 11.
I met a wonderful couple in Ryde on Tuesday afternoon – Jean Thorne and her husband Peter. Many years ago when I was a salesman for United Biscuits I called on Harvey's small grocery store in Ryde High Street and loved Jean's parents who ran the store. It was a joy to call on them. They ran the shop from 1927 to 1978. Jean has great memories of the real life in a grocery shop – long before supermarkets. Her husband, Peter, is also so talented as an artist, designer and ship-in-a-bottle expert. Jean can be heard on John Hannam Meets on May 17 and they will both be in a forthcoming Beacon.
On Wednesday afternoon I popped into a JS Whites re-union at the Island Sailing Club, Cowes. I never actually worked there but so many friends did. I did play cricket for them back in the 50s and 60s. Great to meet so many old friends.
On Friday we went to the St Pauls Church, Covent Garden, for the Memorial Service for Shaw Taylor. It was a wonderful occasion with so much humour and memories of such a delightful man. There was a great crowd to celebrate his life and he certainly would have approved. When Rod McLennan sang The Shadow of Your Smile, live in the church, with the legendary Kenny Clayton on piano, it was such an emotional moment. Shaw wanted to make 90 – and made it. It was such an honour to have known him.
On Saturday I arrived at the Landguard Manor, Shanklin, to see the IW Shakespeare Company's production of Henry IV. Like a few others I was surprised to find it was an open air production. It had been changed at almost the last moment and was not the fault of the company. They even supplied rugs for those, like myself, who did not arrive in top coats. It became cold but it was well worth it. Another brilliant production from this talented company. On the way home the car heater seemed like a tropical paradise!