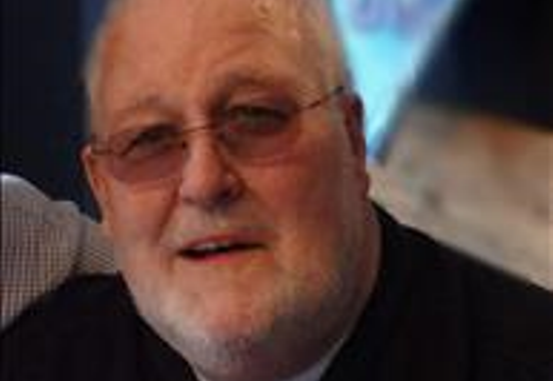 When I went to bed early on Monday morning it was snowing hard and I was worried I might not make Wilf Pine's funeral, just a few hours later. I woke at 6-15am and was determined to make the effort. The car was covered in snow but I managed to clear it and get to Yarmouth. Bertie and I then caught the ferry and a bus to New Milton. It was an amazing experience just to be there. Wilf had been a friend of mine for over 40 years and had been so kind to me over the years. He was such a great comfort when Heather died and he came to her funeral. I will never forget his kindness to me or the huge bunch of flowers that arrived when he knew Heather was so unwell.
There was a large congregation and the fact that Elkie Brooks sang Don't Cry Out Loud live in the church and Fred Dinenage did the eulogy, were wonderful accolades to a local guy from Oakfield. There were also superb personal tributes from family members.
Wilf touched people from many walks of life. Among the mourners were actor Billy Murray, who played detective Don Beech in The Bill for ten years and later Johnnie Allen in EastEnders. Others included movie actor and producer, Terry Stone, David Arden, the son of pop music mogul Don Arden, Dave Courtney, Albert Chapman, Joe Pyle Junior and Andy Shier, the former IW Radio presenter, now at Wave 105. Several family and friends travelled from the Island.
Wilf had a fantastic send off and you can have a brilliant funeral.
I had a great night on Tuesday at the Pier View pub in Cowes. It was an honour to introduce the charity evening for Brainwave, a charity which supports mentally disabled children and their families. The idea for the quiz night came from Josh Barry, from East Cowes, who suffers from Athetoid Cerebral Palsy. What a great character he is. He is planning to walk up Pen y fan, in the Brecon Beacons, on May 4, to raise funds for the charity. He will be taken out of his wheelchair. There will be a team of ten who will support and balance his body weight in his quest to reach the top. It's the highest mountain in the region.
Josh's aim was to raise £1000 for the charity. He has already gone past that without going anywhere near the mountain. At the Pier View well over £100 was raised at the quiz night, thanks to the generosity of those who attended. It was a tough quiz – and I was only watching. Josh set the questions. The quiz was well compered by Simon Clark. I was delighted to sell quite a few books and give a donation from each one to Brainwave. Josh – good luck on May 4.
Went to the New Theatre Royal, Portsmouth, on Thursday to see Some Mothers Do 'Ave 'Em for the second time. I had seen it in Richmond a week or two ago. Loved it again and it's always a thrill going back to the first theatre I ever visited. Back in the '50s my parents took me to shows there.
I am not a lover of being a team member in quiz nights. Our two best friends, Shauna and Paul Shutler, asked us to join their team at the Newclose cricket ground. They have done me many favours over the years and, as it was them, I relented. On Friday night we came sixth out of 20 teams. The big surprise was my partner Bertie. She was rather good and far too intelligent for a guy like me. Dare I say that I did quite like it but have no plans to make it that regular. I did surprise my team by a few right answers.
We went to the Memorial Hall on Saturday night to see You Got It from Everson Woodford Productions. It was to raise funds for Prostate Cancer and was such a good night out. We had to queue to get in, which was a great feeling – and it was completely sold out. I want to mention the whole cast of – Bertie Everson, Bex Macdonald, Andrew Woodford, Roland White, Rod Chainey and Jamie Woodford. They all worked so hard. Bertie Everson was quite brilliant singing his great finale of Roy Orbison songs. He's really got this off to a fine art.
I offered to sell my two books at the gig and donate £3 from each book sold to the charity. I had to go to the car park to get more books from the boot. I was astonished how many I sold. A great night and congratulations to all involved both on and off stage.