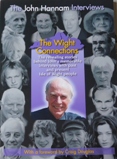 John's latest book, The John Hannam Interviews – The Wight Connections, will go on public sale on Friday October 5. This is John's biggest book to date and contains 122 chapters featuring past and present people with strong associations with the Isle of Wight. These include many local characters, famous people who been born on the Island, many local celebrities and others who made it their home for many years. They cover all walks of life.
John will be signing copies at the County Press office on Friday October 5 at 10am and the following morning at Glyn Morgan's of Shanklin. There will also be signings at The Old Smithy, Godshill, and Busy Bee, Ryde, in the coming weeks.
The foreword is by Island-born '50s and '60s pop star Craig Douglas.