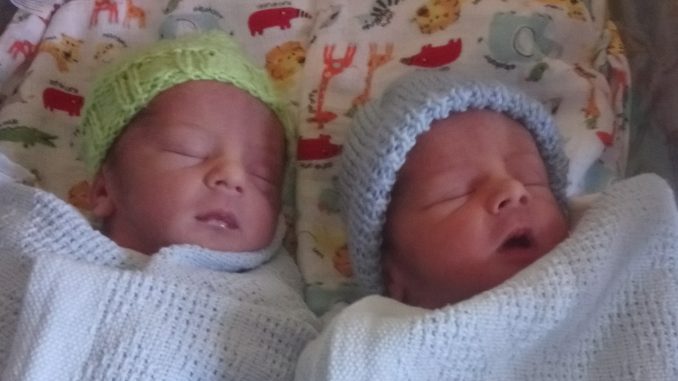 What a day on Monday. I was heading for Stoke Mandevelle Hospital to, hopefully, see my two new grandsons and on the train from London's Marylebone station I got a text from my son, Sean, to say they had been born just after 9am. I was able to get there around 2pm and the visiting time was from 3pm. It was one of the most memorable moments of my life and Susie and the two twins, Roddy and Ronnie, were doing well. When I got into the ward I saw this guy in a gown and for one moment thought it was a hospital worker. In fact it was Sean, who had been the other side of the screen doing their cesarean births. I was quite tearful when I saw the boys for the first time. I told Susie it was like watching Call The Midwife. Apparently, they now play music during the births and Sean and Susie had taken in their choices. He told the theatre staff there were a couple of Rod Stewart tracks included but he'd decided not to choose The First Cut Is The Deepest. I just wished my late wife, Heather, could have been there.
On Tuesday night I went to the Marchwood WI, near the New Forest to give one of my talks. It was only the second mainland WI I had ever talked at. It proved a super night and I met two old friends from the Island, Brian and Pat Buck. Brian used to play cricket with me for Medina. We were the only two guys there.
Two days later I went to the Rookley WI for their afternoon meeting. Another great occasion and both groups of ladies were such super company. I also sold a few books.