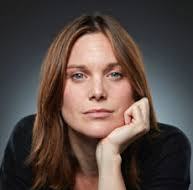 With two funerals within three days it was always going to be a kind of tough week.
There was some joy on Tuesday when I went over to Chichester to interview one of my favourite actors Liz White. She has been in so many hit television series and a few top movies. Liz, pictured,  is in Shadowlands with Hugh Bonneville until May 25.
Mike Lambert, who does such a brilliant job with putting my books together, is delighted by the quality and variety of the 56 archive photos of past Island groups and entertainers, which forms a further section from the 100 chapters on Island characters in my forthcoming book. I think quite a few will look stunning in a glossy book. The group photos will only bare the name of the band. It's so much more fun trying to pick the members out from back in the 50s, 60s, 70s and 80s. Some haven't changed a bit – and some have!
I had a great time on Saturday night when Shirley Bulpitt invited me to see their live group at the Isle of Wight Rock 'N' Roll night at the Riverside Centre. I was very impressed with Bo Walton and Red Alert. What energy and a brilliant sound.