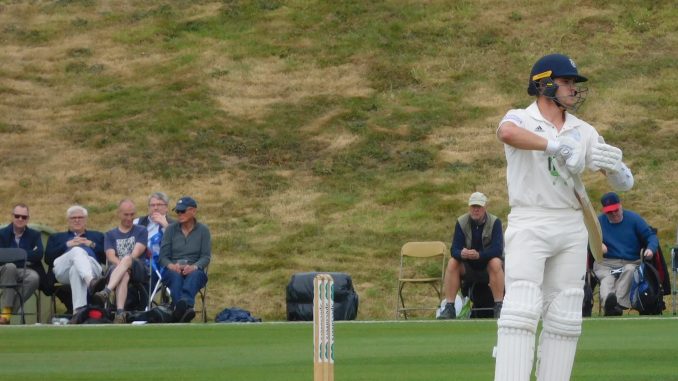 Having County Cricket back on the Island for the first time since 1963 was great news and I was one of 2000 people who turned up on Monday to see the first day of the match between Hampshire and Nottinghamshire. There was so much to celebrate – but perhaps not the £10 a day car park fee. My four day ticket to the game cost me £33 for all four days. It cost £40 to park the car for the same number of days.
Forgetting the extortionate price for the car park, it was a day to savour. The chance to see several internationals cricketers in action, including three England Test players, was indeed a great thrill. It was not the best advert for the four day game as it was rather a slow day for runs, with not too many exciting moments. The highlight of the day was when a Spitfire performed some aerobatics in the skies above Newclose. Congratulations to all of those concerned in bringing top class cricket back to the Island. This match looks odds on for a draw – unless the bowlers come out on top.
Went back on Tuesday and there was another bumper crowd. Hampshire bowled far better than they batted. They threw their last remaining wickets away in the morning, bowled well to dismiss Notts and then lost a second innings wicket right at the end of the day. Someone will need a big score on Wednesday.
In fact, two Hampshire players,  Rahane  and Northeast both came up trumps and scored a century each. I was thrilled to be there to witness the two historic moments. It was an amazing four days and Hampshire easily won the match. Congrats to all concerned both on and off the pitch.
What a week it turned out to be. I had the first proofs of my new book, due out in October. I am so pleased with it and the archive photos for a new section look stunning.
My daughter Caroline was down for a few days so it was dad's taxi service. I was lucky to also fit in the cricket.
Also had an interview with one of my favourite comedy actors confirmed.
On Wednesday night I was one of a few brave men who attended Shanklin Theatre for Hormonal Housewives, a show which starred my good friend Vicki Michelle. Men, not surprisingly, came in for some stick . I learnt a few things about ladies, too. Loved the show and the other two performers, Josephine Partridge and Julie Coombe, were also quite brilliant. They all worked so hard. I was hidden away in the balcony but Vicki even managed to spot me – but said nothing.
The first proof of my new book has arrived. There is still a lot to do before it goes on sale in October. I am very excited with this  book which is going to be my last one. Personally, I think it might prove the most popular I ever ever done. Not because of any journalistic brilliance but simply because of the fascinating people featured in it and the 24 pages of  Hannam Archives, featuring past pop groups, local bands and entertainers. The pictures have come out quite superbly. These will bring back so many memories.