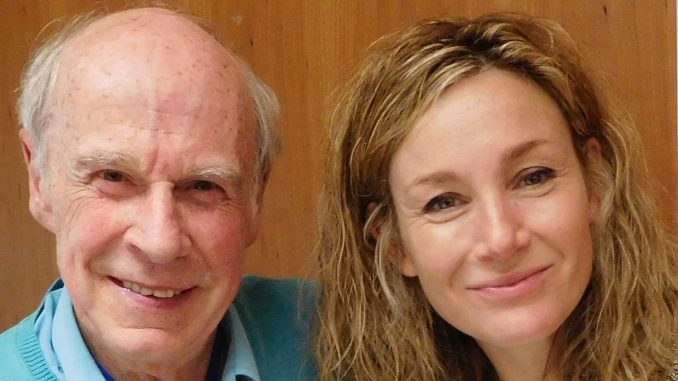 Went to Chichester Festival Theatre on Tuesday to interview two of the stars from their production of Deep Blue Sea, which runs from June 21 to July 27. Both Matthew Cottle and Nancy Carroll were in great form. Matthew, an experienced stage actor, is known for hit TV series like Game On, The Windsors and Citizen Kane. Nancy, pictured with John, played Lady Felicia in nearly episodes of Father Brown. She also played Diana Churchill in the superb The Gathering Storm.
Heard from my book wholesalers, Nigh's of  Shanklin that they had sold out of my latest book The Wight Connections, despite me having a reprint. This is exciting news. I managed to find them another 38 copies. The total left in my personal stock is now just 26. Once these are gone no more will be available.
We went to Gurnard Pines on Friday night to see Hanna Nixon's show called After You've Gone, an evening with Judy Garland. I was invited by her musical accompanist Roger Holmes. To be honest, I was never a Judy Garland fan, although I admired her talents.
Hannah had obviously done so much preparation and research before her debut with this production. She had beautifully perfected the mannerisms and facial expressions of Garland, which made her appearance so realistic. Ironically, the least effective song was Over The Rainbow. Several at the start of the second half were outstanding. I was not sure about the pre-appearance  voiced introduction and at times during her linking material I was not sure if she was talking as Judy or Hannah. I felt uneasy with the American news flash about the assassination of Kennedy and her subsequent song dedicated to him. The Garland fans in the audience loved it and it was a very commendable first effort. It will need tightening up but it does have much potential.
Ended the week by watching Ventnor Cricket Club lose again. They have not yet won a league match. Sadly, relegation looks a certainty.