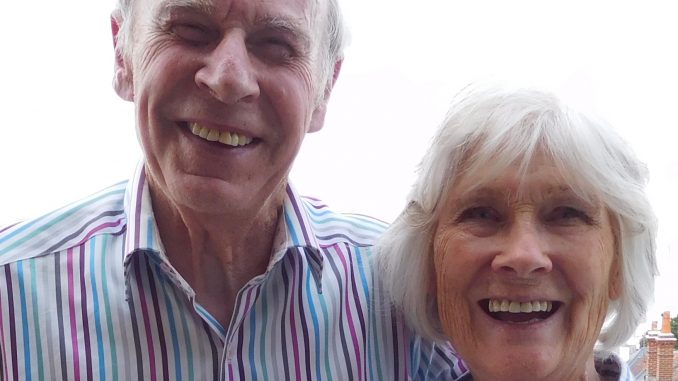 Tuesday turned out to be such an interesting day. In between taking an old friend out to lunch and my weekly physio session I interviewed two actors who were on the Island for a couple of days appearing in a show called Summer Love at Newport's Quay Arts Centre. Both Virginia Stride, who was in the original Z Cars series, and Rupert Bates is the son of famous actor Michael Bates. His dad  was so popular for his long run in It Ain't Half Hot Mum. Both Virginia (pictured) and Rupert have enjoyed fascinating careers.
The following night I saw them both on stage in Summer Love. They both made quite an impact in this marvellous new show , which included two short Anthony Minghella Plays. It was a wonderful show and much of this was due to the strong cast and both the acting and directing talents of Graham Pountney. A show with such a variety of emotions. The Weatherman, which was the third short play, this one was  by  Giles  Cole, was also a gem. Graham and Rupert were quite a double act and a few surprises emerged from the script.
Friday proved a very emotional evening for me. I became a proud dad when watching my son, Sean, interview Glyn Baker, the son of the late great actor Sir Stanley Baker, on Talking Pictures TV. It was so well put together by Talking Pictures and both Glyn and Sean clearly enjoyed each others company. They had a great post-show response, which was so well deserved.
The week ended up with the first proof of my next book arriving from the printers. I suddenly feel very excited about it.