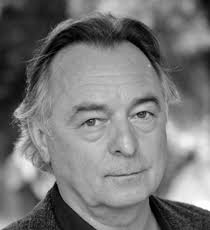 The week got off to a perfect start. Despite having a seemingly endless leg muscle problem I managed to get to London to on Monday interview  Ron Cook (pictured), one of my favourite actors. I had enjoyed his TV shows and movies over the years but it was his 40 appearances, as the rather pessimistic Mr Crabb, in Mr Selfridge, that brought him a lot more national fame. That was richly deserved. He is such a wonderful actor. We had a great time at the Electric Airwaves Studio. Look on my news page for more about Ron Cook.
On Thursday I was very honoured to be chosen as an inspirational speaker for a Medina College assembly. I love a challenge and this was the first time I had ever undertaken this type of 20 minute talk. They were a very attentive audience and I loved it. It was while since I'd been on stage at the Medina Theatre. Both Sean and Caroline were former students at the school.
I love chatting to West End and Broadway musical star Earl Carpenter. He came to Off The Rails on Friday primarily to talk to me about his forthcoming one-man show at this Yarmouth venue. It all sounds so exciting. The date of the show is Sunday September 8. Tickets are already available and the evening includes a three course meal. Earl has played Javert in Les Miserables around 2000 times and put the mask on for Phantom of the Opera at least 1500 times. He's got some stories. He'll relate quite a few and sing some great songs from hit musicals.
Sadly, another Saturday at Ventnor Cricket Club had a familiar ring to it. The Island team have lost every Southern League game this season and they did it again. This time it was a very close finish in their match with Calmore. They were just a few runs short of a stunning victory.
Hopefully, any mistakes in my new book may have been found in the final read through. I have had my partner Bertie, as an extra pair of eyes, and she  has managed to find one or two. It's a far cry from her normal detective novels. If all goes well, it will on sale in late September.