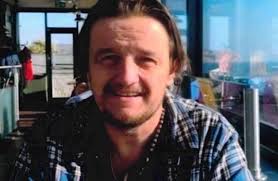 Both Sean and Caroline managed to get back to the Island for the sad funeral of Justin Gladdis (pictured), who died at the age of just 47. Such a lovely man and much loved by so many people. It was such a touching and beautiful send off. His former IW Radio boss, Andy Shier, delivered a brilliant eulogy. The whole celebration of his life was so uplifting. Many memories were shared at the subsequent wake at The Breeze. So many travelled from the mainland, including colleagues from his last radio station Wessex FM. Many former IW Radio presenters were very evident. It was so wonderful to see them but a sad occasion.
On Saturday I popped into Shanklin Cricket Club to watch some of the match held in memory of one of their finest players of all time, Dave Porter. It was such a good turn out and people like Jonathan  and Adrian Griffiths had travelled from Wales for the special match. Former Hampshire and Kent bowler David Griffiths delivered such an emotional speech in memory of his late father-in-law. The match commentator was former Hampshire fast bowler Kevin Emery. So wonderful to meet a few other old cricketers, from my era, who were present.
On Sunday night we went to Off The Rails in Yarmouth to see West End and Broadway performer Earl Carpenter perform his new show, A Touch of West End, in between the courses. It really worked well and it was a full house. A great night. Earl is a  performer who oozes so much confidence. He clearly loves the freedom to work an audience and choose his own songs. The success of the evening was also due to Earl's 'orchestra'. It may have been simply talented cellist Yvonne Marie Parsons but this idea was such a gem. Both performers complemented each other perfectly. I find the cello a heavenly instrument. I liked the way the two performers moved among the diners at the end of the evening.  The staff were superb and I hope they repeat this kind of evening. Only one complaint – I expected at least one course to be served to me by either Javert or the Phantom!!!  At least he did sing hits from both shows.