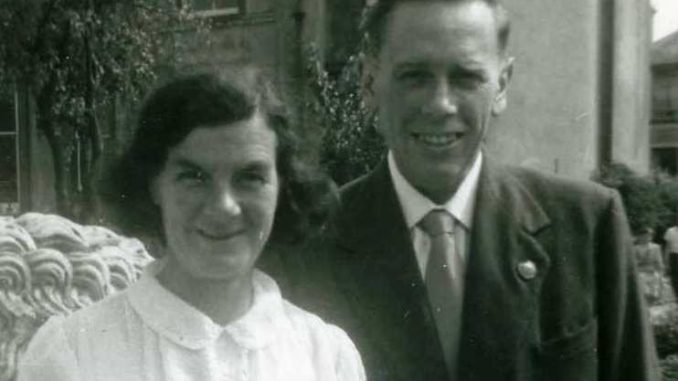 Monday was virtually an around the Island day. I was catching up with promoting my book, dropping in visual selling aids and generally promoting More Wight Connections, I am pleased to say the East Cowes Heritage shop in Clarence Road is now stocking the book. There are pictures of an old East Cowes Vics team, a Cowes Secondary Modern team and the Cowes Concert Band, alongside one or two old groups who were very popular in the area. These will be of great interest as will chapters on Kenny Mac, real name Les Maskell and his brother Les, Josh Barry, Vic Lewis, Roy and Ena Hannam  (pictured) and Alan Taylor.
I had a 13 hour round trip to Milton Keynes on Wednesday and it was well worth it. I went up  to visit my daughter Caroline who is currently the head of wardrobe on the nationwide tour of The Exorcist. We had lunch, I saw the matinee of the show and interviewed two of the cast. They were Sophie Ward and Tristram Wymark, the son of Patrick Wymark and the sister of Jane Wymark. Both lovely people and listen out soon for both interviews. Sophie's is now online and there is a direct link from this website.
My new book is beginning to move well. Several new stockists have just taken the book. These include  Busy Bee, Ryde, Shalfleet Stores and Norris Stores Niton.
Saturday would have been our 56th wedding anniversary. Sadly Heather died in 2006. Going to watch one of our all-time favourite movies on Saturday night – The Jazz Singer, with Neil Diamond.
Had a brilliant Sunday to finish the week. I went to see The Magnificent Music Hall at Shanklin Theatre. Met up again with two old friends who are still going strong in the business – Jan Hunt and Bobby Crush.They both gave me great interviews for future John Hannam Meets. Brilliant show and no swear words, smut or crude jokes. Real talent on view during the whole show.
I was saddened when I got home to hear of the death of actor Stephen Moore. He was such a lovely man. Look out soon for a Hannam Archive to celebrate his life. I interviewed him at the Mayflower, Southampton,  in 2012.