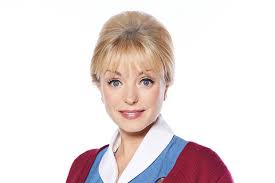 What a perfect start to the week. On Monday I travelled to Bath to interview popular TV and stage actor Helen George, who is currently touring in My Cousin Rachel. This comes to Chichester Festival Theatre from January 28 to February 1. Helen is so popular as Trixie Franklin in Call The Midwife. What a lovely lady, too.
Managed to get my recent interview with the great Sir Ian McKellen online and this should prove popular.
It seems like Thursday was virtually spent in St Helens. We went to the cemetery in the morning to try and get to a grave that was grown in. It was for my daughter Caroline, who is continuing with our family tree. Thanks to Rob Penfold, who is working on  clearing some of the undergrowth  around the burial  ground, we were able to accomplish our mission. His electric cutter was perfect. The grave was bigger than we thought and contained three family members. A few hours later I went back to the village to give a talk to the St Helens Historical  Society. They were a great group to talk to and it was such an enjoyable evening.  I think I over-ran a wee bit. They seemed to like my books – and the few surprises  I had in store for them.
I decided to record my 4-30 hour-long interview with Marty Wilde on Talking Pictures TV channel. Just in case I didn't like it. It would have put me off  my talk. One or two there had said they had enjoyed it. I breathed a sigh of relief when I got back home to watch it. It was okay – and Marty loved it. I even had a phone call from a guy in Wales – and he liked  it. It is likely to be repeated soon. Apparently nearly 70,000 watched it. My biggest-ever audience for an interview.