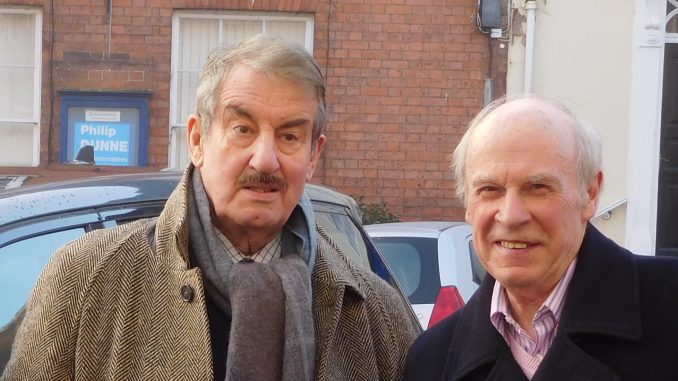 I was up at 5-45am on Monday to travel to Ludlow in Shropshire to interview John Challis. He's world famous for playing Boycie in Only Fools and Horses. It was rather a long day. The train from Southampton to Newport Mon was cold and had no trolley service. It was also faulty which meant it was late and the journey finished at Bristol Temple Meads. We were told another train was waiting to go on to Newport and Cardiff. It wasn't. We had  to wait for the next service train which meant another 30 minute wait. I had already missed my connection to Ludlow. Eventually I arrived an hour late. John came to pick me up and bought me a lunch before undertaking the interview. I was in the town for about 80 minutes and then I had to head back to Newport to pick up the Southampton train. In the end it was a 15 hour round trip. I got what I went for but was rather tired when I got home. John Challis and his wife Carol are lovely people and I enjoy their company. He heads for Shanklin Theatre on April 22.
I certainly needed to see my physio. Matthew Ohren later on Tuesday. My damaged quad muscle found it a bit of a struggle getting to Shropshire and back. I managed to have a quiet week after that. Just a few pleading letters for interviews and a fascinating double feature I have written for the County Press nostalgia page.
I wound down with two coffee mornings in the Wheatsheaf, Newport, with our last of the summer wine group. They are all Boycie fans.
I was also saddened to hear of the death of  one of my early television favourites Christopher Beeny. He played Lenny in The Grove Family, Edward in Upstairs Downstairs and Billy from In Loving Memory. See my news page.