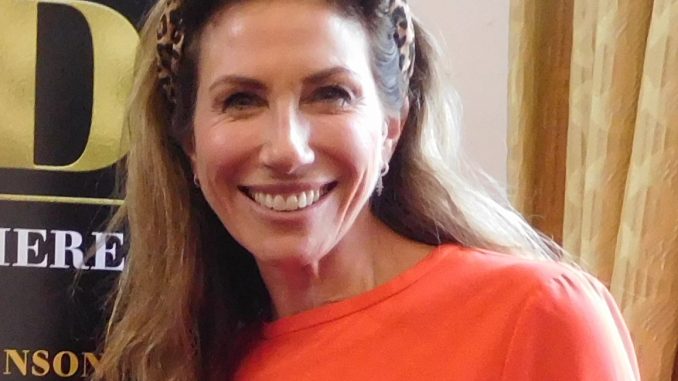 On Wednesday lunchtime I had the delight of going to the Mayflower, Southampton, to interview the writer of the hit television series Band of Gold. The creator Kay Mellor was joined by her TV star daughter Gaynor Faye (pictured). They were promoting the world premiere tour of the stage version. Kay is directing this one and Gaynor, famous for playing Judy Mallett in Coronation Street and Megan Macey in Emmerdale, is one of the stars. It comes to the Mayflower from February 4-8. They can soon be heard on John Hannam Meets podcasts.
On Friday I had a great morning finding out about a wonderful new rock opera, Blue On Blue, written by two local guys. The story is such a good one and the song I heard had an instant impact. David Kilpack and Phil Merivale, lifelong friends, have really come up trumps. It will have its world premiere at Brockenhurst College in May. I am so looking forward to it. They are very talented writers and Andrew Lloyd-Webber and Tim Rice started with a school production, Joseph. I am keen to help them.
On the way home we had a wonderful meal at the White Lion, Niton. This has recently reopened. It was also a treat to be served by a former County cricketer, Chris Russell of Worcestershire fame.He now plays locally for Ventnor, after leaving the first class game and returning home to the Island. He is such a fast bowler and thrilling to watch in action.  We are going back for another meal.
Had a great Saturday afternoon when I saw Whitecroft Barton beat Bush Hill 4-2 in the Hampshire Trophy, formerly the Hants Intermediate Cup. In last year's final they lost to Bush Hill. Sweet Revenge. The impressive visitors took it well in the end after a very competitive match. Sadly, it needed a stronger referee. Both sides were, quite rightly, unhappy with certain decisions.
It was a kind of revenge weekend, with Southampton beating Leicester City, after that huge home defeat earlier in the season.