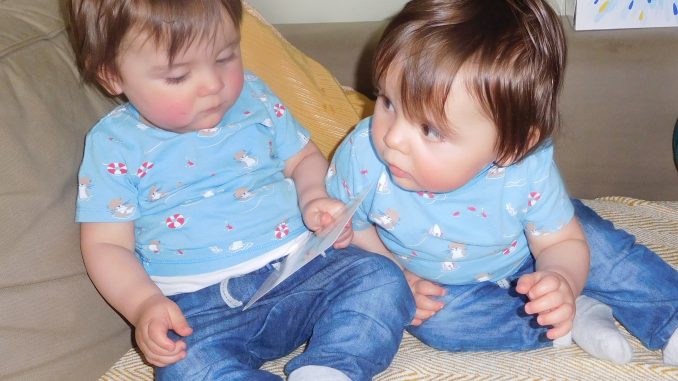 It's been quite a week which started off at 8-30 on Monday with a visit to my dentist. Luckily, all was well as I had an afternoon talk in Newchurch for the Isle of Wight Interest Group. It was real fun and they seemed to like my chat. So many nice people in the same room. I hope to be invited back .
Wednesday was an historic day for the Hannam family. It was the first birthday of Sean and Susie's twin boys Ronnie and Roddy (pictured). We managed to get there for a few hours and it was just a joyous occasion. Cameras were out and it was one of the greatest days in the recent history of the family. Chesham is nearly a four hour trip from the Island by train and underground.
On Thursday we went to the Kings Theatre, Southsea, to see Su Pollard in her new touring show called Harpy. It is a one-woman show and is quite brilliant and very emotional. What a talented lady.
On Saturday I interviewed top actor David Calder who is a regular visitor to the Isle of Wight. It was so nice not to travel far. David's hit TV shows include Bramwell, Widows, Titanic, Cracker and Family. On the movie screen his credits include The World Is Not Enough, The Hatton Garden Job, Lady In The Van and United.
The following day I caught up with one of my long-term friends, pop star Marty Wilde. He was on the Island at Norton Grange, Yarmouth. Before his afternoon show he gave me one his best interviews ever. As ever, he was such great company.