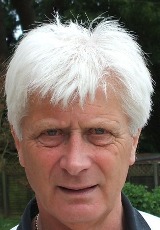 Another lockdown week to look forward to. At least we now have a little more freedom. If only I could still run it would be brilliant. Can't complain I did run for over 60 years – obviously, I started when I was very young!.
Still enjoying writing features for the County Press. Nice to see my Shanklin Pier Theatre article made it last Friday. Happy memories. Great to also see my Roy Shiner article in the sports section. He was such a hero to many of us.
Been working on a feature about David Griffiths, the young Islander who went on to play professional cricket for Hampshire and Kent. This is likely to be in this week's County Press sport section.
My family suggested I should get Whatsapp. Had my very first video call on Thursday morning. It was from my good mate Eddie Walder (pictured). The only problem was I could see him as well!! Mind you, he does look younger on my mobile phone screen. It was great fun. Looking forward to seeing the twins over the weekend – on my phone, of course.
Just put my latest podcast online. There is a link from the news page of this website. It's Bill Pertwee – the evil Hodges the air raid warden in Dad's Army. Still love it and watch it every week.
My good friend Marty Wilde was becoming a little frustrated by the lockdown and he has overcome this by recording a new track called Running Together, which is quite brilliant. Marty, who wrote the song, has recorded it with his backing band, the Wildcats and singing daughters Kim and Roxanne. None of them were together. It was recorded at various locations mainly in people's private homes. It is so beautifully put together and produced. It is available on YouTube.
On Friday I made my first visit to Norton since I recorded my very last pre-virus interview with Marty Wilde. The holiday centre closed within a few days. This time it was to deliver two books to a house near the centre.
Saturday was a day to celebrate. I had my first WhatApp video link with Sean and his family. It was so great to chat to the twins who are just starting to walk – and, of course, Sean and Susie. I also won £30 on the lottery.
On Sunday I competed my longest walk for 14 months. It must mean my leg is slowly getting a little easier. I might suffer tomorrow.