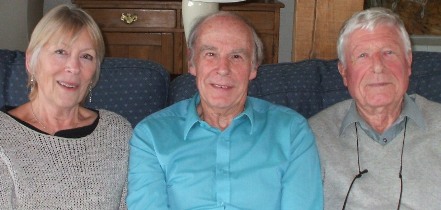 Life is proving tough for so many people at the moment. I am one who is getting a little fed up for the first since the start of the first lockdown. I have always had interviews in the pipeline to excite me – or shows to watch. Now I have neither.  My partner, Bertie, keeps me sane and is a treasure. Thanks to WhatsApp, I can also see Sean's twins growing up. Luckily, I keep in contact with Sean and Caroline and friends, via various modern day methods, and continue my archive podcasts which are available from all the major sites. One thing I am looking forward to is being interviewed for a new online website next month. More details soon.
I was  thrilled the other night to get a phone call from one of my favourite actors, the wonderful John Woodvine, who has become a friend in recent years, along with his wife, Lynn Farleigh, another brilliant actor. They came down to the Island to be the star guests at one of the County Press Theatre Awards Gala Nights at the Shanklin Conservative Club. They are both coping well. Millions know them both for so many television and stage appearances. John was also the doctor in the 1981 cult movie An American Werewolf In London. I love watching them both crop up in old television series and movies. I loved Lynn in the brilliant Steptoe episode of the water bed. A classic. John and Lynn are pictured. Don't know who the guy is between them!!
Tuesday night was quite exciting, too. I did my second Zoom talk. This time it was for the Yarmouth Society and we all had such fun. They were a great audience and very appreciative. They even want me back.
Delighted to write an archive sporting feature on Stuart Peters, one of the Island's great characters, in the County Press dated Friday January 22. Sadly, in the same issue is my appreciation for the life of Island musician Doug Watson who recently passed away. Such a loss to the Island's live music scene.
Our low key launch of the two DVDs which featured guests from my old television chat shows on TV12 and Solent TV has surprised both Maurice Gilliam and myself. We have sold more than expected. At present, we are contemplating releasing two more of Isle of Wight characters later this year.