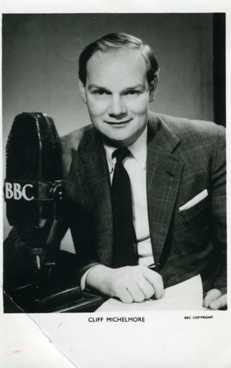 Been asked by the County Press sports editor, Jon Moreno, to pen a tricky sporting archive for the issue of Friday February 12. It surprised me – and will surprise a few others. It's back to normal after that.
Sorry to hear the news of the death of Mary Wilson one of the original members of The Supremes. I was so thrilled to interview her when the group came to Sandown Pavilion in 1983. I will be doing a podcast of a short interview from that day very soon, to celebrate her life. It was such a brilliant concert.
I have written some Nostalgia and Wight Memories articles for forthcoming features in the County Press. The latest to be publishd was Island-born Cliff Michelmore (pictured), such a famous TV face for many years. A brilliant news presenter. This was in the CP dated February 5.
It's rather strange to say that two highlights of my week were the funerals of Peter Boffin and Doug Watson. They were both held in such difficult circumstances but the memory of both of them will linger for a long time. Other than being two of my favourite people, their funerals perfectly captured their eventful lives. They were both unique in their own special way.
Peter's was presented like a show, to illuminate his acting career in the world of amateur theatre.  There were slides, a home movie a touch of Tom Lehrer and a brilliant eulogy from Michael Arnell. He even got the family members singing along. Fellow thespian Sue  Edwards  did so well to link it together, as the celebrant.
Doug's was hosted superbly by Paul Armfield and, as expected, contained a lot about  Doug's humorous life as a talented musician. There was also live music from JC and Angelina and some of Doug's vocal records with Blue Moon. You could have made a real supergroup from those who were permitted to attend.
Both were non religious services and only a maximum of 30 people were allowed.  In normal times there would have been two full houses and more outside.