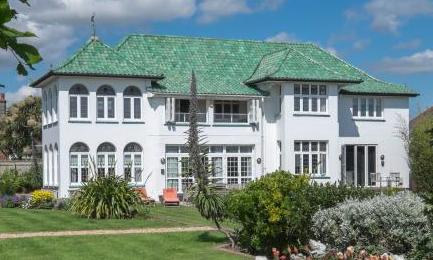 Monday turned out to be such a special day. Laurence and Sharon Smith, who own the wonderful Marine Villa, also known as the Art Deco House (pictured), on the cliffs at Shanklin, had contacted me with regard to  an article I had written a few months on the Shanklin Pier Pavilion for the County Press. Part of the story involved the Terry-Woods, a famous old Island theatrical family who once lived  at the house.
They  invited me to their home for afternoon coffee and biscuits and were such splendid hosts. The house is quite amazing and a real gem. I could just imagine some of the old stars who appeared at Shanklin Theatre,  such as Paul Robeson, Tommy Trinder,  Richard Tauber and Anna Pavlova visiting the house to enjoy its comforts and breathtaking sea views, as the guests of the Terry-Woods.
Thankfully. I am going back for a return visit. It can be booked for both long and short breaks and can accommodate at least 14 adults and four children. It's definitely, the top end of the market.
Also nice to visit the home of the Island's popular ex-professional footballer Bert Cronin. He played locally for teams like Parkhurst, East Cowes Vics, BHC, Newport and Foresters. I am doing a feature on him for the IW County Press.
Yet another blood test – that's certainly enough about that.