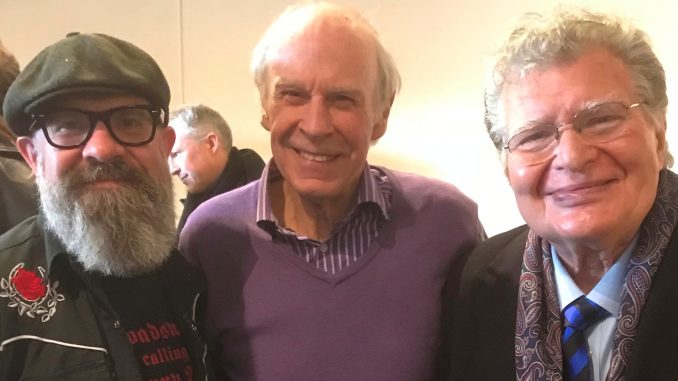 It's been a week with two interviews confirmed that I have wanted for many years. Both are very established actors who have been in so many hit TV series. I am so thrilled that both of them have said yes to my requests. One came completely out of the blue as I wrote to him last March. I never worry how long I have to wait. All wll be revealed in the next month or two.
Went to Fat Friends on Tuesday night at the Mayflower, Southampton, and loved it, particularly the second half. There were notable performances from Jodie Prenger, Sam Bailey, Kevin Kennedy, Rachael Gooding and the biggest surprise of them all, Freddie Flintoff. He gave a remarkable performance and proved he can turn his hand to anything. He got a great ovation and it was so well deserved.
I have finished my new book, due out in October. It has 34 more chapters than my previous two books. I am really excited about it. There is still a lot of work to be done and I am compiling the photographs at present. It will be particularly interesting for Island people. I have a different kind of book in mind for 2019.
Had a wonderful day on Sunday. Bertie and I took Melvyn Hayes up to the Renown Pictures Film Festival in Rickmansworth. We went on the 8pm ferry and had a very easy drive to Rickmamsworth and the M25 was the quietest I had ever seen it. It was such a day to treasure. I was privileged to interview Melvyn live on stage in front of a full house. He was in great form and we had numerous favourable comments after our spot. As ever, I was just the prodder, to get him going. It didn't take long!
It was nice to meet a few former guests of John Hannam Meets, including Derren Nesbitt, Brian Murphy, Shirley Anne Field and Linda Regan. Melvyn asked for donations to our Island Heart Care Club to sign his pictures and raised over £200. I was also delighted to sell copies of my two books.
My son, Sean, wanted to meet Where Eagles Dare star Derren Nesbitt and I managed to set that one up. We are pictured together.