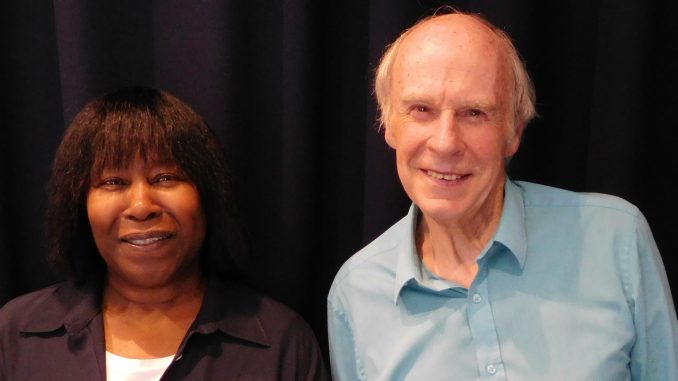 Had a fantastic Tuesday in London. I interviewed one of my favourite actors, Annette Badland, at the Shakespeare's Globe Theatre. Annette has made hundreds oftelevision appearances. Her long series have including playing Charlotte in Bergerac, Mrs Dooley in the Queen's Nose, Margaret Blaine in Doctor Who, Ursula Crowe in Wizards v Aliens, Babe Smith in EastEnders and, most recently, Fleur Perkins in Midsomer Murders. The staff at the theatre went out of their way to help.
I was on a tight schedule. Annette was at 1pm and then I had to race off to make Foley Street for my 2-30 interview with Joan Armatrading. I walked across the Millennium Bridge and headed for St Pauls. I needed the underground there to move on to Oxford Street. I stopped and asked this very smart guy in a suit where the St Pauls underground was. He was so helpful and I thought I knew his face. I raced away, after  thanking  him, and then realised it was David Tennant. I made my Joan Armatrading interview and she was also  in great form.
Early the next morning I had to write an article on Joan for the September Beacon magazine. It meant a  busy couple of days.
I have been asked to interview Dominic Minghella at the IW Literary Festival. I am making three appearances over the few days of the festival.
Had a super afternoon and early evening watching Ventnor  beat Old Tauntonians & Romsey in an exciting Southern League cricket match at Steephill. The Island team are now third in the league. Met Jeff Hose at the game and I warned him he is one of over 100 Islanders in my new book, due out in October.