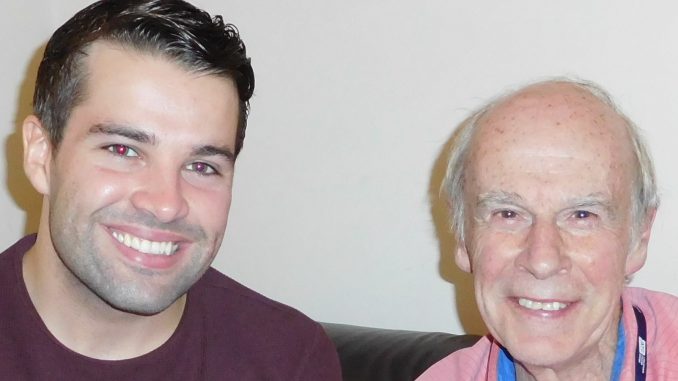 I finished the previous week with two very successful  book signings at The Old Smithy, Godshill, and Busy Bee at Ryde. Both of these outlets have now sold more of my books than ever before. My new book, The Wight Connections, is all about Island people, and is proving very popular. If I had not had a quick reprint the book would now have been sold out. Thankfully, there are enough around the Island to cope with the demand.
I popped over to Radio Solent on Monday to make an appearance on the Alex Dyke Show. He was keen to talk about my new book. I was very impressed with Alex at work in a dream studio.
I went back to Southampton the next day to interview one of the stars of the Mayflower pantomime, Joe McElderry (pictured). It went online on Thursday and has become my most successful podcast to date. The remarks on twitter have proved how popular it seems to be. Joe is such a nice guy.
Later that night, thanks to Paul Armfield, I went along to the Quay Arts at Newport to watch Jane Siberry. This is the first time I had ever seen her work. It was a very interesting evening and she is quite unique. I love her song Calling Angels.
On Thursday night I was the guest speaker at the Christmas dinner of the Cowes Rotary Club. Wonderful meal at the New Holmewood Hotel but not an easy audience to win over. One of the toughest I have had in over 40 years. A wee bit different to my usual crowd.