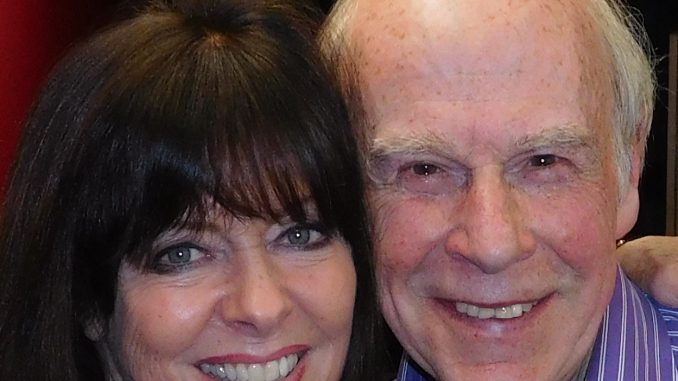 It turned out to be a very busy week.  On Monday we went to the Monster Mash Up show at the Shanklin Theatre presented by the wonderful First Act Theatre Company. Another night to savour and, as ever, there were a few emotional moments.
On Wednesday I went to London's  ElecAirwaves Studio to interview Stephen Wight, one of my favourite actors, who grew up on the Isle of Wight. As ever, he was in great form. His interview can he heard in May.
On Thursday we had morning coffee with my good friend Tony Grimwade, who is in my new book, and his lovely wife Diane. Then it was lunch in the White Hart Havenstreet – and good it was, too.
On Friday I was excited to meet up again with my old friend Vicki Michelle, who played Yvette in Allo Allo. She is currently touring Britian in a very funny show, Hormonal Housewives, which comes to Shanklin Theatre on May 22.
I had a great end of the week when I saw Charlie Landsborough at Newport's Medina Theatre on his farewell British tour. It was a brilliant night and Charlie was in superb form. There are a few lovely surprises in this current show. He also found time for us to do an interview fully 20 years after our first one ever at Guildford in 1999.