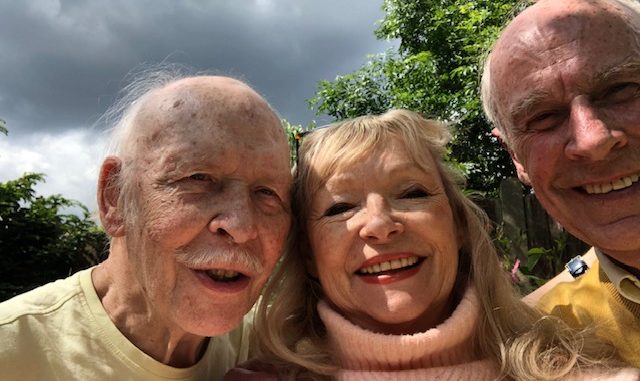 On Tuesday I enjoyed such a brilliant day. I went to the Kent home of actor Brian Murphy, most famous for playing George Roper in both Man About The House and George and Mildred, and his lovely wife Linda Regan. Linda is also a fine actor and a great writer of detective stories. She played April in Hi-de-Hi. They were the perfect hosts and Brian proved a station to home and back taxi service. It proved a real fun day and I interviewed them both. Much fun was enjoyed by all of us. Linda was also rather clever at taking a selfie. Brian and I were hopeless.
The following day we went to the press night of Matilda at the Mayflower, Southampton. I knew nothing about the story of Matilda but found it a most enjoyable show. There were several outstanding performances.
Thursday was another gem of a day. I caught up with my good friend Marty Wilde at the Anvil Theatre, Basingstoke. We met up for a good old chin-wag before his soundcheck and then I also caught up with another long-term friend, American rock 'n' roll star Charlie Gracie. He was on  Marty's current British tour to celebrate his 80th birthday. Charlie, who is 83, and I also go back a long way and his amazing wife, Joan, was with him. They are a marvellous couple. I also caught up with another old friend, singer Mike Berry. I was in my element. Great show, too.
I was also thrilled to know my book wholesaler, Nigh's of Shanklin, had also sold out of my latest book -The Wight Connections. I only had 26 copies left myself – and they have taken 12 of those. I had one reprint but will not undertake another.  It has proved my fastest selling book ever. I have hopes that my new one, due out in late September, will prove even more popular. I have had to increase the print run for this one.
Visited Sean and Susie and their new twins on Saturday. It was the perfect family gathering, as Caroline was able to make it. Had my first-ever Grandfather's Day Card. A day to treasure – but perhaps not for 30 minute late night wait for the Cowes Park and Ride bus.