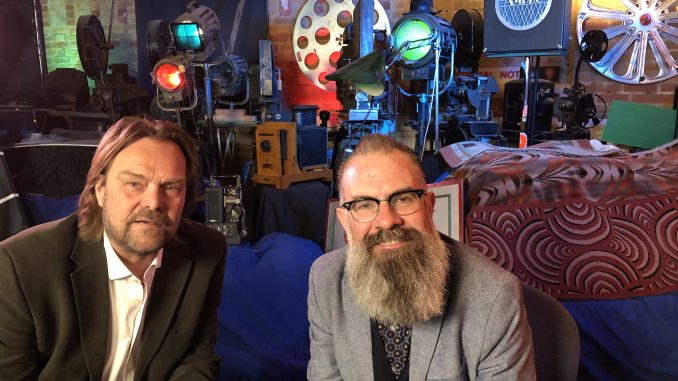 I love catching up with long term friends and this happened when Eileen Egerton popped out to see me on Monday. She was keen to see Sean's recent TV interview with Glyn Baker, the son of world famous actor Stanley Baker. This was on the brilliant Talking Pictures channel. Sean and Glyn are pictured. She has also acquired some old reel to reel  7 1/2 speed tapes and she wants to find out what is on them. They are recorded in four track. Now trying to get an old tape machine to play them on. Mine is only two track.
Popped down to the Rose Inn, Ventnor, on Tuesday night to watch one of my favourite local bands of all time – Bobby I Can Fly. They were quite superb. More news of this gig in my news section of this website.
Had another great night on Thursday when we went to a new live music venue – Django's, which is the former cafe at Newport's Lavender Farm, otherwise known as Stapler's Farm. The Newberries were playing live and featured Lewis Berry and his two brothers playing tasteful blues and soul music. Had my first-ever tapas and enjoyed them very much. A nice venue, great music, fine food, good service and a  relaxing atmosphere. It's a long lane but well worth the visit. Check out their regular list of live music, which can be heard several days a week.