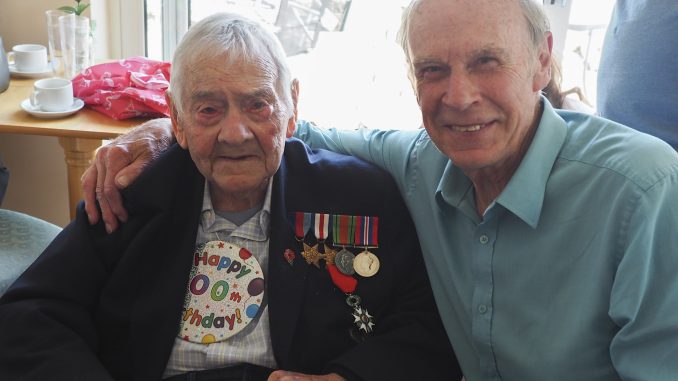 My latest book, More Wight Connections, which includes 100 more chapters on Islanders and over 60 archive photographs of past Island  groups and entertainers, has now gone to the printers. This will be available in early October.
I have also completed a September article for the County Press on an event that will have happened exactly 60 years previously. It was quite an historic moment for the Island.
Friday proved a very sad day. I was one of many who crowded into  Newport's Catholic Church to celebrate the life of Neil Shutler, affectionately known as 'Shutty' who had recently died at the age of 101. I was honoured to have known him for many years and he came on both my radio and TV shows. It was a wonderful send off to a remarkable man. I will never forget being with him on his 100 birthday (pictured).
Later that day I received the tragic news that Justin Gladdis, an old colleague at IW Radio, had died at the age of just 47. I loved Justin and he was such a lovely and gentlemanly guy. Always genuinely pleased to meet up with you and even more so if you talked about Southampton Football  Club and Morrissey, his two great pleasures in a life that was never easy for him. He moved to Wessex FM for many years where he was their senior journalist. Justin also was the home announcer at the Saints games. When Saints were on Sky you could always hear his excitement as he announced their goals to the St Mary's crowd. It was, obviously, a little more refined when the visiting team scored. I know he was looking forward to his duties for the new season. Sadly, that will now never happen. I will never forget that Justin Gladdis smile or the warmth of his welcome whenever we met up.