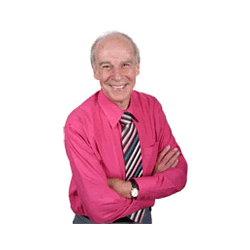 WC JUNE 20
Headed up to London on Tuesday to pop in on Craig Douglas to see how he is progressing after so much recent bad luck with his health. Following his leg problem, which has threatened his career, he had a fall at home and broke his hip. Thankfully, he is in good spirtis and recovering well. He is looking forward to his special show at the Medina Theatre, Newport, on October 6. He is also so excited about the new album he is recording with one of the world's greatest current record producers. Already several top record labels are showing a great interest. Some of the songs are unbelievable and nothing like his hits in the 50s and 60s. They have knocked me for six – and youngsters are raving over them.
After a quick lunch with Craig, I nipped off to the offices of International Artists to record interviews with Paul Zerdin and Joe Pasquale. What a riot of fun they turned out to be! They were both in such good form – and I took some stick – which was even better. They are both heading for Shanklin Theatre in August.
It was nice to meet a few old friends when I opened the new Newport Co-op, in Pyle Street, on Thursday morning. The store has great personal memories for me.
The great thrill for me was to receive a cheque for £200 for my favourite charity – St Mary's Applegate Breast Care Nurses Unit – in memory of my late wife, Heather.
We nipped off to Basingstoke on Thursday afternoon to once again catch up with my old friend Dennis Locorriere, the voice of Dr Hook and so much more more. My girl friend, Bertie, insisted on coming as Dennis is one of her favourite stars. It could be the fact that she always gets two hugs every time she meets him. I never get jealous – on the way she told me it was nice to be in a dressing room with two very sexy older men. I might need that in writing.
Just a warning about John Hannam Meets for Sunday July 3. Among my guests will be The Voice of Viagra – Britain's number one poser – the delightful JESS CONRAD.